| | |
| --- | --- |
| | GKOS Keyboard applications for Android Phones and Tablets |



A Chordic Keyboard for Android - Fast text entry with large enough keys and font - Use one or two hands - No chord charts or memorizing of chords!


New phone app available for testing: GKOS ComboKey for Android. Developed by Qt Creator tools. - 14 Jan 2015

See further below: Test version 1.1.0b is available for download (Themes and layouts in separate files. Autorepeat.) - 19 Jan 2014

This is a

chorded keyboard

where you can enter characters

with your thumbs

by pressing

a single key or two keys together

, like playing a simple chord on a piano. It is based on the GKOS Keyboard Open Standard, and provides fast single or two handed chordic text entry. No chord charts, cheat sheets or memorizing of chords needed! All symbols of the PC keyboard are available and clearly shown on the key pad. There are several languages (layouts) available on the Tools menu as well as different themes for adjusting the look of the keys. Thanks to chording, the number of keys is low, they are big but still support most computer keyboard functions. Pressing the Android Menu key shows some help and allows you to send the typed text by SMS or just copy it for other applications.

Single hand

typing too


In vertical orientation, you can
also do

single hand typing

by
sliding your thumb from one
key to the other when that is needed, even within one side if 'mirroring' is enabled in the Tools menu.


Languages supported:

English, Esperanto, Estonian, Danish, German, Spanish, Finnish, French, Greek, Icelandic, Italian, Norwegian, Portuguese, Swedish, Russian. Planned next: Korean.


Fast mobile on-screen text entry application - GKOS

There are many types and brands of Android phones available. Not all of them support multi-touch. Further, some of them use display drivers with only modest multi-touch capabilities, basically just intended for zooming with two fingers (pinch-to-zoom). Most latest models have genuine multi-touch operation (since mid 2010).

The GKOS chorded keyboard application for Android

can be used perfectly on devices with genuine multi-touch

(e.g. Samsung Galaxy S) but

with limitations (poor detection of two key presses) on incomplete multi-touch

(pinch-to-zoom)

devices

(like the older HTC Desire, Nexus One etc.) by ticking the last option on the Tools/Settings menu of the application. Still one limitation will remain

in the older incomplete multi-touch (pinch-to-zoom) devices, namely:

You

cannot press

both thumbs down (left and right keys)

exactly at the same time

because in that case their locations cannot always be unambiguously resolved by the touch screen driver. - So, to really validate the GKOS concept, you should have genuine multitouch on your phone!





Here are some examples of Android phones and how they support multitouch as required by the GKOS app:





Genuine multi-touch

(recommended for GKOS): Samsung Galaxy S, Motorola Droid Incredible, HTC Desire HD, HTC Wildfire (double-touch), Motorola Droid X (double-touch), Huawei Ideos X5 (double-touch)

and

most new models

.

Pinch-to-zoom

(so-so, poor response): Samsung Galaxy Spica, HTC Hero, HTC Desire, Nexus One, HTC Aria, ZTE Blade

Single-touch

(not really usable for GKOS): At least Sony Ericsson Xperia X10


The optimal

screen resolution

for this application is 480 x 800. E.g. on Samsung Galaxy

Ace

, with the screen resolution of 320 x 480, part of the top keys (a, th, w, d) are hidden behind the the text area in vertical postion. This could be fixed in future apdates of the GKOS application. The horizontal position is more usable on that device.



Android Multitouch Test >>


The GKOS keyboard is an application of its own, but it can also be set to serve as the system keyboard

:



1) In phone settings Language & Keyboard, add to the selection the GKOS Keyboard and then,
2) while typing e.g. an SMS, press long on the input text field and choose GKOS on the pop up menu.

Both horizontal and vertical orientation of the keyboard layout are automatically available for mobile typing.



Touch-typing

on a touch-screen

Indeed, in horizontal position, you can

type while


keeping your eyes on the text, but this is true only
after getting familiar enough with the layout of course.
Discussion and Comments >>
Please send your comments on how the app works on your phone and proposals on how to improve it.
(Reload frame to check for updates on this page)
Please note that the test packages available on this website use different signature than the distribution package on Android Market.
This means that the test version must be uninstalled before the Market version can be installed - and vice versa.
Update with a different signature is not possible.
Jan 19, 2014 - Next update v1.1 planned for publication soon - draft available only here:
Available v1.1.0b === 19 Jan 2014 ===
Fixes:
-
Cursor
is visible and functions correctly again also on recent Android OS versions
New features:
- Themes and Language layouts are in
separate files
.
-
User-defined
themes and layouts on
SD card
are possible (Use application's JSON/zip files as templates)
- Language adjustments
-
Auto-repeat
: repeat previous press by pressing and then holding down Abc button
- Unfortunately
one bug
remained: mirroring works but buttons on the other side are not highlighted unless you first select
Tablet layout and then come back and deselect it. After that everything should work OK.
Available
v1.0.7
for testing now -
=== 25 Jan 2013 ===
- New refreshing theme:
School
!!!
- 0...25% of
overlapping
allowed for two consecutive key presses (will still not be considered a combo); allows faster typing
- Added:
Ukrainian
layout (a user's wish)
- Refining optimised layouts - Now two
slightly different
optimized layouts in menu ('Old' and 'Recommended')
- Page Up/Down implementation added (press 0.4 seconds at least, for up arrow as well)
- Better detection of Tablets, and a
Forced Tablet Layout
option in the menu
should now be working alright!
Please give your comments.
-
Experimental
character
layout*
as a third optimization option (Optimized 3)
for all supported languages now
found in Tools settings.
- Fixed (ref. v1.0.4.c): Wrong button width in some cases before changing settings
- Added:
abc indicator
also acts as a button to
toggle
between the selected
native
language (abc)
and English
(aux) language character sets
- Added: a
language indicator
under abc button
- Added:
Esc
key sends an
esc charater
while using the app as the system keyboard
-
Added:
Automatic capitalization option in the menu. Every new sentence starts with a capital letter automatically.
*
The
experimental layout
has been
optimized for two-hand typing
but can easily be used by one hand as well.
It has similar, more harmonized, layout for all Latin alphabets. Only the native part of the layout will vary.
Still the
'Recommended'
layout option is the universal one which is also available on other platforms (WP & MeeGo/Harmattan).
New version
1.0b
released on August 1, 2011
"Big Update" -

Optimized Layouts and Tablet/Pad Support



Updated version 1.0b available free on Android Market
August 1, 2011
In addition to
Optimized Layouts and Tablet/Pad Support:

New language: Korean. Master Mode for Experts and for fun.
Vibrator on/off. Improved button images.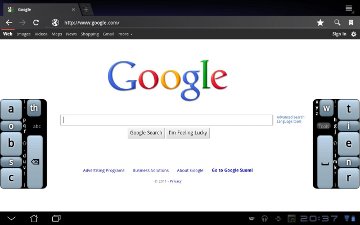 Screenshot: GKOS on an
Android Tablet
Status on August 1, 2011 ("

Big Update

"):
Next version will feature these improvements (Available
v0.938
for testing now
24 July 2011
)
-
Optional optimized
GKOS Letter Frequency Layout
makes typing a breeze
- The
modification
(example showing the English layout) has been
separately defined for all supported languages
.
- Optimization greatly improves usability:
Less chording - More alternating left/right key presses - More single keys!
- Android
Tablet Support
added (not included in test version 0.938 above)
- More languages:
Korean
(Hangul) layout (14 April: Korean layout improvements etc.)
- Use the vertical bars (Backspace + Space) to toggle between
123 set, abc set and Korean set
- Shift (B + E keys) in Korean mode will give you double tail consonants directly plus some special symbols.
- Korean character set and
the
Latin set latest selected
are simultaneously active, just toggle with the vertical bars.
- Master Mode! option hides all symbols (opposite to the new option of the previous version: show more help)
- Vibration on/off
- Improved button images (more 3D-like)
- Sound files are more modest now to make app file size smaller (no more stereo)
- Since previous version already, the GKOS application
can be stored on the memory card
instead of the phone memory to save space)
New version
0.9.3b
released on Jan 23, 2011
- v0.9.3b (Languages: en/
eo
/
et
/da/de/es/fi/fr/gre/is/
it
/no/
pt
/sv/ru)
- Support for
Portuguese, Italian
and
Esperanto
added.
- A new
On-screen Help
added!


Status on November 16, 2010:
Plans for next version
- Support for more languages:
Esperanto, Estonian, Italian and Portuguese
-
On-screen help
, showing more characters (shown here for the 'umlaut' layout):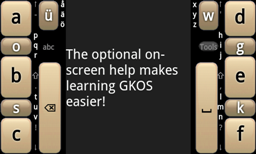 (click image for a larger view)
New version
0.9.2b
released on Nov 05, 2010
Status on October 25, 2010
:
Plans for the first update
- Fix bug with some accents.
- Add
Greek
and
Russian
languages, supporting now: en/da/de/es/fi/fr/
gre
/is/no/
ru
.
- A
new Button Theme
"Healthy" introduced: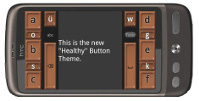 Status on October 3, 2010
:
*** Available free on Android Market. Version October 3, 2010, v0.9b, Languages: en/da/de/es/fi/fr/is/no
Status on September 20, 2010
:
These languages are now supported: English, French, German, Spanish, Finnish, Swedish, Norwegian, Danish and Icelandic.
Some accent characters do not operate as expected. Some finetuning and testing is still required.
Status on September 14, 2010
:
Several languages will still be added to have these layouts available: English, French, German, Spanish and five Nordic languages.
Later there will be more of them. Testing of the app on different phones will be done before the first Beta release.
Status on August 1, 2010:
The application is being developed and first tested on an HTC Desire phone (similar to Nexus One, also not having a genuine
multi-touch display). The application is working OK already but needs some final polishing before being published. Especially
adapting to the earlier incomplete multi-touch displays is causing some headache.
Status on June 4, 2010:
Android phone received. Development started.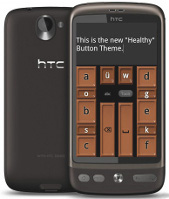 Daily builds >>
Keywords:
Chordic text entry, Android thumb keyboard with chording, Chord keypad, A Chorded keyboard for Android, Fast Mobile Typing on GKOS keyboard, Big buttons, Big keys
Avainsanat: Monikosketus, Yhdistelmänäppäimistö, Sointunäppäimistö, Monikosketusnäppäimistö, Monikosketusnäyttö, Kosketusnäyttönäppäimistö,
Kosketusnäyttönäppis, Virtuaalinäppäimistö, Virtuaalinäppis, Nopea mobiilikirjoittaminen
Korean Hangul GKOS chorded keyboard for Android (
한글)
. Character layout with jamos, syllables and double tail consonants for fast typing.